June 22-23, 2022
Greenville Utilities Commission Operators Center • Greenville, NC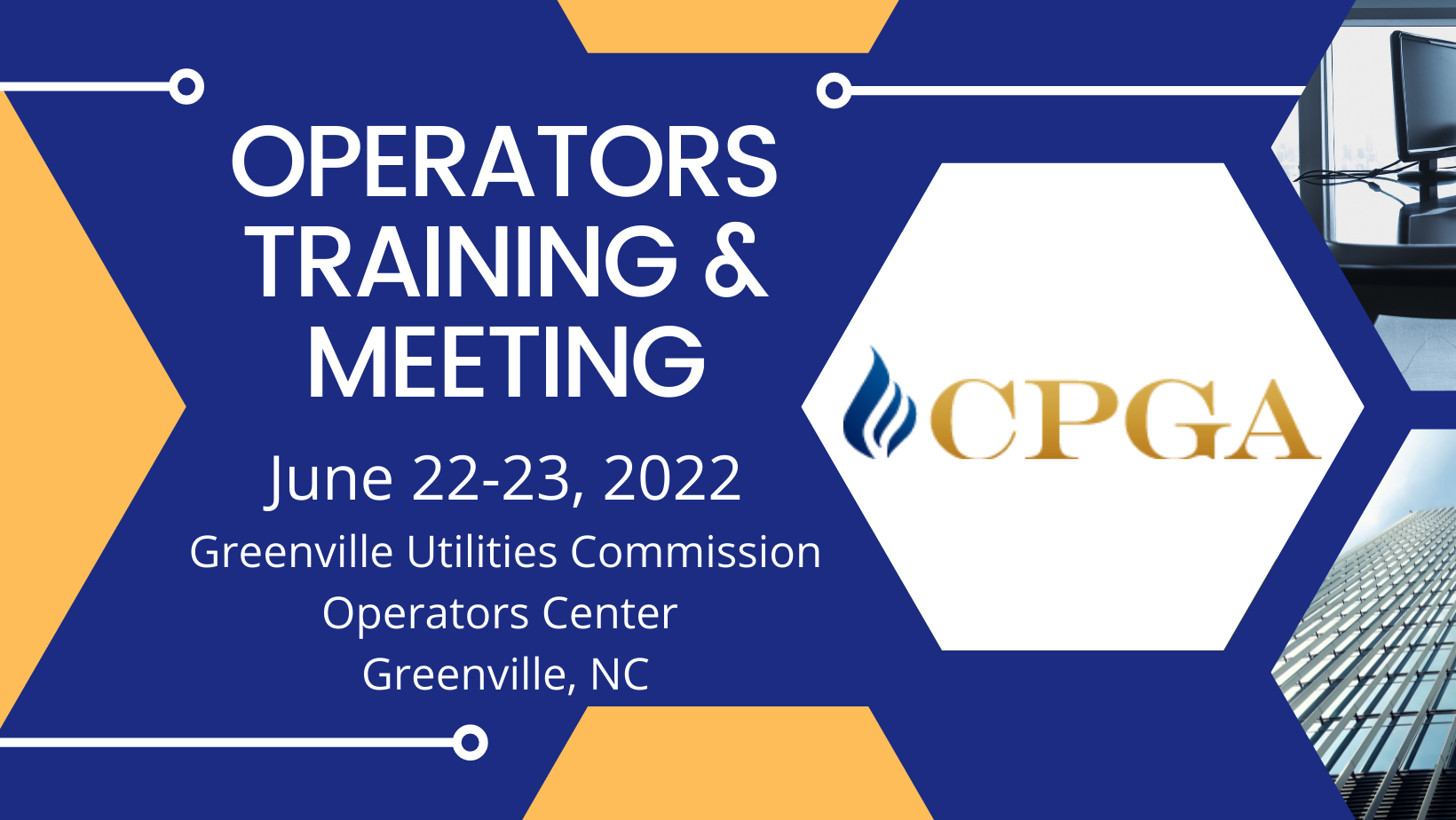 The CPGA June Operators Meeting and Locator Training will take place June 22-23 in Greenville, NC. The schedule is below. Please note: registration is capped at 25. 
The training will take place at 3355 NC 43 N, Greenville NC 27834-6134.  The visitor parking is the first lot on the left (just before the stop bars) when you pull into the new operations center.
June 22
8:00 am - 5:00 pm:  Locator Training (Classroom and hands-on) 
June 23
8:00 - 9:30 am: Locator Training (Classroom) Remainder of morning (Hands-on) trainees can join the rest of the group for lunch. Locator Training will resume after lunch and all questions/concerns will be addressed.
10:30 am - 12:00 pm:  Operators Meeting
12:00 - 1:00 pm: Lunch
Locator Training Agenda
*Safety Vests are required
**Training participants are strongly encouraged to bring their own locating equipment to the training
Welcome and Introductions
Purpose of Locating
Types of Equipment (Attendees are encouraged to bring their own locating equipment)
Equipment Maintenance: Basic Care
Locating Principles (Some will be in roundtable format for discussion)
Theory
Best Practices in Verifying Locates

Conductive vs. Inductive
Tolerance Zones
Ticket Management Systems
Damage Reporting/Damage Investigation (Hit Kit)
Communicating with Construction Contractors/Excavators
Abnormal Operating Conditions
Safety Issues
Training/Certifications
Basic Troubleshooting

Field Demonstration

Various Different Locates
Suggested Hotels
Below is a list of suggested hotels in Greenville, NC. 
Courtyard by Marriott Greenville (Closest to Operations Center)
2225 Stantonsburg Rd. Greenville, NC 27834
(252)329-2900
Hilton Greenville
207 Greenville Blvd. SW Greenville, NC 27834
(252)355-5000
Hampton Inn
305 Greenville Blvd. SW Greenville, NC 27834
(252)355-7400
Holiday Inn Greenville
203 Greenville Blvd. SE Greenville, NC 27834
(252)355-8300