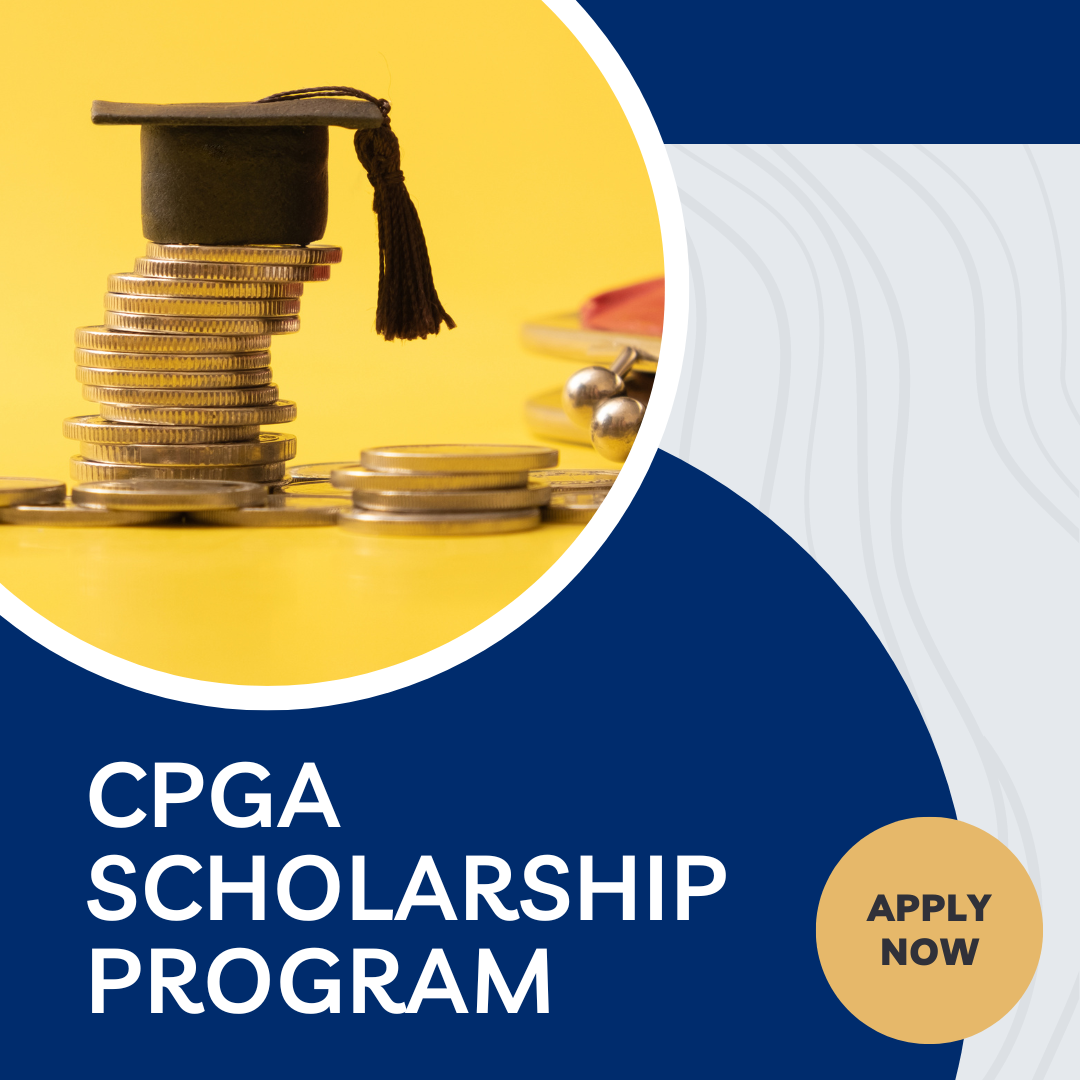 At the CPGA Annual Conference in September of 2022, the Board of Directors established a Scholarship Committee to encourage further education.  The fund is for financial assistance to CPGA system members and associate members employee's dependent child or grandchild.  Monies from the Scholarship Fund are to be used to further professional education or training.
Please note the criteria below will be used to determine the scholarship recipients.  These guidelines have been approved by the CPGA Board of Directors and will govern the decisions of the Scholarship Committee.
The deadline for applications is May 31st. To submit your application online, please click the form below. Applications received after the deadline will not be considered.
Award notifications will be sent during the month of July by electronic mail. 
GUIDELINES FOR THE USE OF THE EDUCATION FUND
The Scholarship Fund has been established to offer assistance to academically qualified individuals who intend to pursue a degree at a two or four-year accredited university, college, or technical school.  Scholarships will be based on such criteria as academic achievement, financial need, extra-curricular activities, community involvement, etc. This fund has been established by the direct efforts of the CPGA Board of Directors and from monies allocated in the annual budget.
MINIMUM SCHOLARSHIP CRITERIA
To be considered for the CPGA Education Scholarship, the applicant:
Must be a dependent child or grandchild of a natural gas distribution or pipeline system employee who has been continuously employed for at least one year with that system, where that system is a multiple distribution utility, and the employee works for the natural gas division of that system or is an associate member.  The distribution system and associate member must be an active member with CPGA.  Also, the employee and dependent child or grandchild must reside within the state of South Carolina, North Carolina, or Virginia to be eligible.

Must be a graduating high school senior or currently enrolled university, college or technical school student, with a minimum grade point average of 3.0, or have completed the GED prior to the year applying and must meet the other eligibility requirements.

Must be accepted as a full-time student at an accredited university, college or technical school.

Must complete the CPGA Scholarship application and submit prior to May 31st of a given year.
SCHOLARSHIPS
The CPGA 2023 budget was created to include a line item for Scholarship Funding.   The total amount of scholarships will be $4,000.  This will allow for four (4) $1,000 scholarships to be awarded to dependents of CPGA system members or associate members. 
SCHOLARSHIP RULES
CPGA is not required to award any scholarship in any given year.
All scholarship winners must submit an invoice from the school.
CPGA SCHOLARSHIP COMMITTEE
The Scholarship Committee is responsible for developing the applications and selection procedures to award scholarships to members for approved educational programs.
Click here for the online scholarship application.
The deadline to apply for the CPGA Scholarship is May 31, 2023.